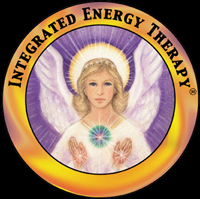 INTEGRATED ENERGY THERAPY® (IET)
Healing Your 12-Strand DNA and More with The Energy of The Angels!

WELCOME TO IET
As a Master-Instructor Trainer and Practitioner of IET, I would be very pleased to answer your questions about IET, as well as provide classes and healing sessions for your benefit. Please feel free to email or call me anytime. I look forward to sharing IET with you!
WHAT IS IET?
Integrated Energy Therapy® (IET) is one of the next generation power energy therapy systems that assists you in getting the "issues out of your tissues" for good! Developed by Stevan Thayer, IET works directly with your 12-Strand Spiritual DNA using the violet angelic energy ray, as brought to us through the nine Healing Angels of the Energy Field.
IET's mission is to "heal the world one heart at a time". The first IET class was taught in 1994. What has happened since that time is truly the work of angels! IET has indeed spread throughout the United States, Belgium, Canada, and Ireland, and classes have been taught in over 21 countries around the world. In addition, what started with one IET class of 30 students has grown to where more than 2,500 IET classes have been held, with over 12,000 Basic, Intermediate, Advanced, and Master-Instructor IET students having attended.
IET classes and healing sessions support you in safely and gently releasing limiting energy patterns of your past, empowering and balancing your life in the present, and help you to reach for the stars as you evolve into your future. They include a progressive focus that begins with clearing the pain and helping you to move beyond only surviving life, to where you move into finding and living your soul's mission so that you can thrive in life. The term "Integrated" in the name is intended to convey IET's healing vision of "integrating the pain of the past, into the power of the present, to bring about the joy of the future".
Anyone can learn IET as no previous energy healing experience is needed. IET is ideal for those wanting to either begin an energy therapy practice or expand an already existing one. IET also provides a wonderful complement to other holistic techniques such as Massage, Acupuncture, Reiki and Therapeutic Touch. While IET is an excellent standalone energy therapy system, IET may be integrated into sessions based on other holistic modalities, and the techniques of other holistic modalities may be brought into IET sessions.
IET is an attunement-based energy therapy system. Each level of the IET system includes an energy attunement that works directly with the 12-Strand DNA to expand, realign, and restructure one or more pairs. Each IET attunement builds together with the others to ultimately bring all six pairs of the DNA into their full power.
Thus, being attuned to the Basic IET Level opens the 1st (physical) and 2nd (emotional) pair of the 12-Strand DNA and provides students with the ability to clear physical and emotional energy blockages from the cellular memory and leave in their place positive physical and emotional energy imprints.
The Intermediate IET Level adds the 3rd (mental) and 4th (karmic/past life) pairs of the 12-Strand DNA and provides students with the ability to clear physical, emotional, mental, and karmic energy patterns from the human energy field, while leaving positive energy imprints in their place.
The Advanced IET Level works with the 4th (genetic soul profile) and 5th (soul cluster) pairs of the 12-Strand DNA and provides students with the ability to discover your soul's mission and attract members of your soul's cluster to help you live your soul's mission and bring your dreams alive.
The IET Master-Instructor Level opens the 6th pair (alignment with the Divine) of the 12-Strand DNA and provides students with the ability to activate the DNA of others and attune them to the Basic, Intermediate, and Advanced Levels. In addition, once you are attuned to the Master-Instructor level IET Ray, your energy field will operate in an increased state of spiritual surrender known as "thy will not my will".
IET Master-Instructors may teach all of the above IET courses except for the Master-Instructor Level itself (there are Master-Instructor Trainers for this and I am a Master-Instructor Trainer), plus others that are available such as: Healing Angels of the Energy Field, IET for Kids, IET for Pets and Steps for Transformation.
For additional information on IET sessions and classes, please follow these links to learn more:


IET Healing Sessions
IET Class Descriptions
Diane's Availability for IET Sessions and Classes (see below)
Diane's Calendar
You can also find information about IET at LearnIET.com.

DIANE'S AVAILABILITY FOR IET SESSIONS AND CLASSES
IET healing sessions are available at any time, in person and from a distance. Please call or email to schedule one or more sessions for you! Go to IET Healing Sessions for more information about these empowering and life-changing sessions.
I am happy to travel almost anywhere to teach IET classes which must be done in person. If you would like to co-create and sponsor a class in your area, please email or give me a call. I'd love to chat with you and share my wonderful experiences with IET healing.
If you are unable to be at one of my scheduled classes (see Calendar), please contact me anyway, as we might be able to work something out individually for you at a mutually convenient time and location.